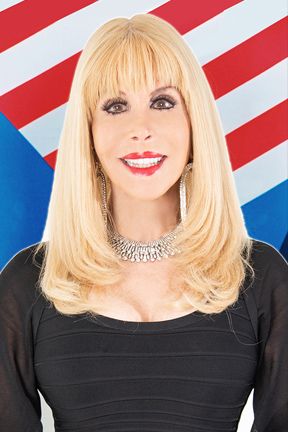 Denise Rubin of the Denise Rubin Group in Aventura, offers her clients award winning service, concentrating her efforts on high-end residential Miami properties and the finest communities. Denise has an impressive resume selling luxury real estate. Denise has sold an array of multi-million dollar homes and condos. Her experience and knowledge of Miami real estate, the Beaches, Aventura, Sunny Isles, Bal Harbour and Hollywood have resulted in an extraordinary amount of record-breaking sales. Denise is #1 in Coldwell Banker- Aventura and #6 in out of all Coldwell Banker Florida agents.
"Not only did you get it sold, but you got a record breaking price, which is even more unbelievable. You are simply the best. I appreciate everything you and your amazing team have done every step of the way." – Frank Mosca.
"Denise Rubin sold two apartments for us in short time periods at the prices we wanted. One in South Beach that miraculously sold for $500,000 above the appraised price!! The other was in Aventura and she sold it for many hundreds of dollars a sq.ft. above the average for the building." – Urs Schwitter.
Denise has received a host of prestigious awards, including her current membership in the International Society of Excellence with Global Coldwell Banker Realty representing the top ½ of 1% of all Coldwell Banker sales associates; she is also the #1 agent for her office in Aventura. Prior to affiliating with Coldwell Banker, Denise led the #1 Sales Team Company Wide at Berkshire Hathaway Home Services Florida Realty out of 47,000 agents and membership in Berkshire Hathaway's Chairman's Diamond Circle, representing the top ½ of 1% of all Berkshire Hathaway Home Services sales associates. Previously, Denise led her own office "Denise Rubin International Realty"; however, in 2010 there was a successful acquisition for Prudential when they merged with Denise Rubin International Realty in 2010. Denise has been #1 every year, and has never looked back.
Denise has won numerous awards including 32 Best Awards from the Builders Association of South Florida. Among those awards was Best Real Estate Professional of the Year for Personal Achievement 6 times! She also won the BASF Platinum award for the Best Realtor® Website 5 times. Best Multi-Media Marketing Campaign of a Single Family Home, and Best Multi-Media Campaign for a Condo. Additionally, she won 17 BASF Best Awards for Marketing including Print Campaign Marketing, Multi-Media Campaign Marketing, Direct Mail Marketing for Real Estate, and Best Outdoor product/ Billboard for Real Estate. Recently, she won East Coast Top Marketing Sales Professional Team award. She is a Member of the Master Broker's Forum for the Top 250 Real Estate Professionals. Other awards include, Woman of the Year for her personal accomplishments, Who's Who in Luxury Real Estate and Best Aventura based Realtor. She was named Miami's Power Women of Real Estate and she was featured in the Best of South Florida on TV. She won a Top Award from "Realtor.com® and the list goes on.
Celebrities, renowned public figures, athletes and numerous household names have used the services of Denise to assist them in finding their ideal luxury home or condo from South Beach to Palm Beach. Most recently she sold a condo to actor Donald Sutherland and sold a condo for New York Real Estate Mogul, Jeff Sutton.
A steadfast dedication to meeting every client's needs, she always goes the extra mile with a smile, putting her clients first before her private time and personal time. Denise says, "I dare to be the best in this profession and to dedicate myself to success." When clients work with the best they get the best results. "Having clients stay with me for life is the key to my success." Repeat business and referrals from past clients, along with all the new business generated from her award winning marketing has accelerated her business to new levels, so Denise has an International group of agents to help serve her clients. We go the extra mile. We don't just sell them a property, we give them personalized service and expertise every step of the way.
Recognizing that exposure is everything, Denise's all-encompassing marketing efforts extend internationally as well. She was one of the first agents in the area to see the value of having an international focus. She has a multilingual Team whom speak Spanish, Russian, French, Portuguese, Hebrew; I pretty much have every language covered. She does online marketing all over the world and advertises in magazines from Brazil to Dubai. Denise also belongs to many international Realtor networking groups, that give her access to other top end Realtors around the world. Denise is a certified International Marketing Specialist. She believes exposure is everything and so she promotes her listings with exclusive marketing programs unmatched anywhere. Denise is sought out by owners to sell their properties due to her extensive marketing, record breaking sales and vast network of contacts and connections that set her apart.
"I was amazed at the marketing campaign that you mounted for my two units. In five months both units were sold at great prices! I have bought and sold many properties over the past thirty years, and this is the first time that I have felt compelled to write my realtor in thanks for the excellent job performed."-John Daniels, MD.
"My experience with you was pleasurable, profitable and efficient. You were able to sell our property much faster than we all thought, as well as for more $$$ than we thought (without having to do anything to it)." – Mark Fein, Asset Advisor.
Denise's clients also benefit from her knowledge of the Greater Miami area, which is truly second to none. Other agents will come to me and say, "I'm sorry to bother you but I heard that you know or you'd be the one to ask." Denise knows every view, every floor plan of almost every condo in the area. She knows everything there is to communities she represents. She is constantly taking courses and has an array of designations after her name. "It's really important when it comes to finding the right property for my clients, which is really the most important thing I do. A person's home is not only one of the largest assets they will ever have, it's where they will be making their memories, raising their children or living out the last years of their lives." To help a client find that perfect property is incredibly satisfying to Denise.
With her unique fashion sense and her adorable Yorkies, Denise is a beloved personality in the Miami area, recently appearing on a local television series talking about real estate and sharing her expertise as a columnist for several local newspapers. She is very active in her Community, and is involved in many local business organizations and charitable endeavors. Denise has been active in the Diabetes Research Institute charities and a past Love Honoree. Also a 2 time honoree for Cystic Fibrosis Institute and a Founder of Mt. Sinai Medical Center Foundation. But perhaps closest to heart is The Sunshine Kids Foundation, which helps children with cancer. "My company hosts a fundraiser every year and is proud to have raised over a two million dollars for them."
Denise believes her incomparable success has everything to do with the passion she has for her career. A quote from client Anthony Robbins sums it up perfectly. Anthony says, 'There's a powerful and driving force inside of every human being and once unleashed, it can make any vision, dream or desire a reality." And Denise says I'm proof of that because she loves what she does. She lives and breathes her career. Denise and the Denise Rubin Group are the Realtors of choice.
Having 30 years of experience in the Real Estate Industry, she is always able to find the best match for her sellers and buyers and is proud to call clients from all over the world her friends. Whether someone is looking for luxury property or a waterfront home, a vacation or a second home, whether they are retiring or relocating, she is the one to call in Miami-Dade, Broward and Palm Beach County. Denise will always find a home that matches her client's desires no matter what place to live they seek. She also specializes in pre-construction sales and re-sales and can assist anyone in getting the most from their real estate investment dollar. Based on her business relationships, her ever vigilant 'market watch' and ability to perform accurate market analysis, she is in the position to inform clients when new-preconstruction opportunities arise before they are made public. As a buyer, this means they will have an exclusive possibility to get in on the ground floor with pre-construction prices and she will help them to sell for a great profit.
"I am not only a Real Estate Agent: I am a Real Estate Consultant who is only interested in giving clients the right advice to make the most out of their money!" Denise has reached a remarkable career milestone by surpassing over 2.5 billion dollars in personal sales and is ready for so much more!